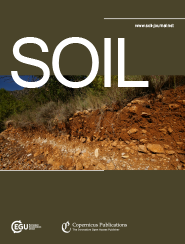 Executive editors: Engracia Madejón Rodríguez, John Quinton, Johan Six, Kristof Van Oost & Jeanette Whitaker
SOIL is a not-for-profit international scientific journal dedicated to the publication and discussion of high-quality research in the field of soil system sciences.
SOIL is at the interface between the atmosphere, lithosphere, hydrosphere, and biosphere. SOIL publishes scientific research that contributes to understanding the soil system and its interaction with humans and the entire Earth system. The scope of the journal includes all topics that fall within the study of soil science as a discipline, with an emphasis on studies that integrate soil science with other sciences (hydrology, agronomy, socio-economics, health sciences, atmospheric sciences, etc.).